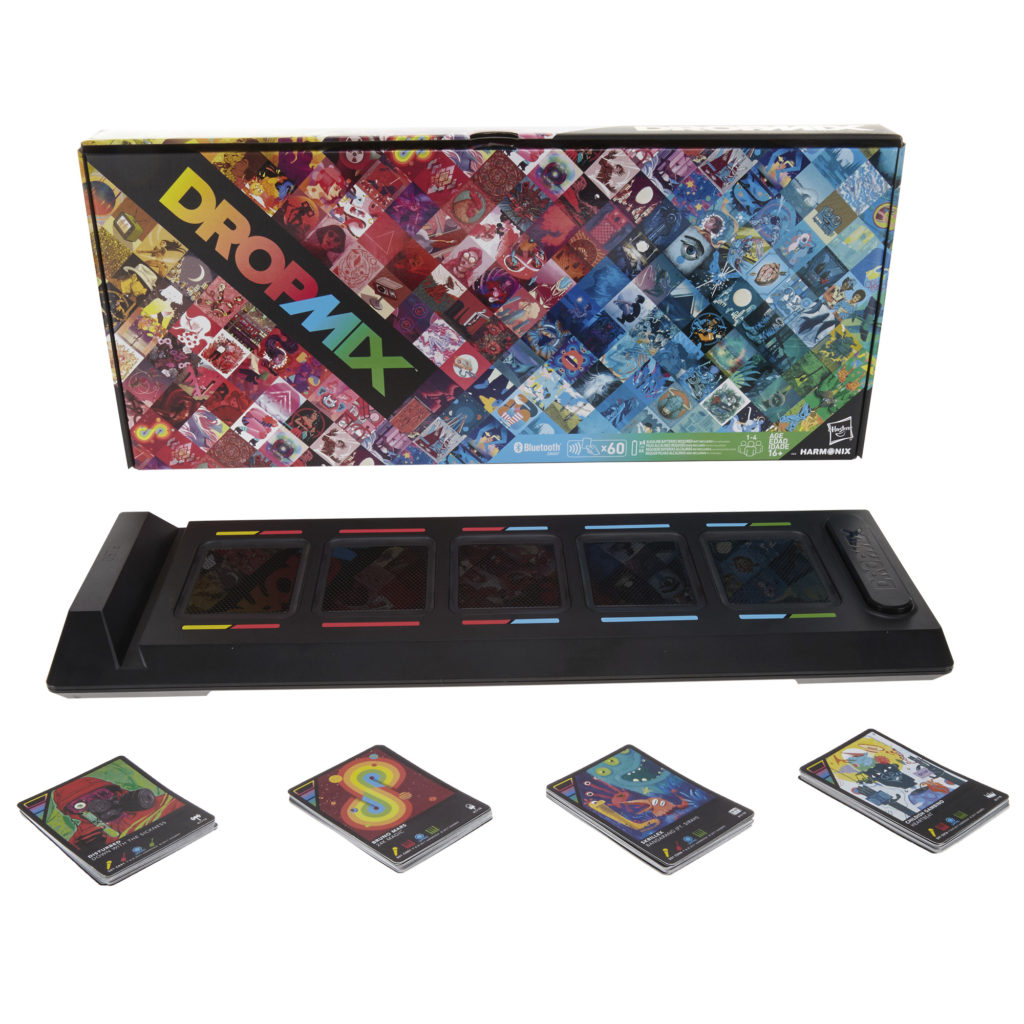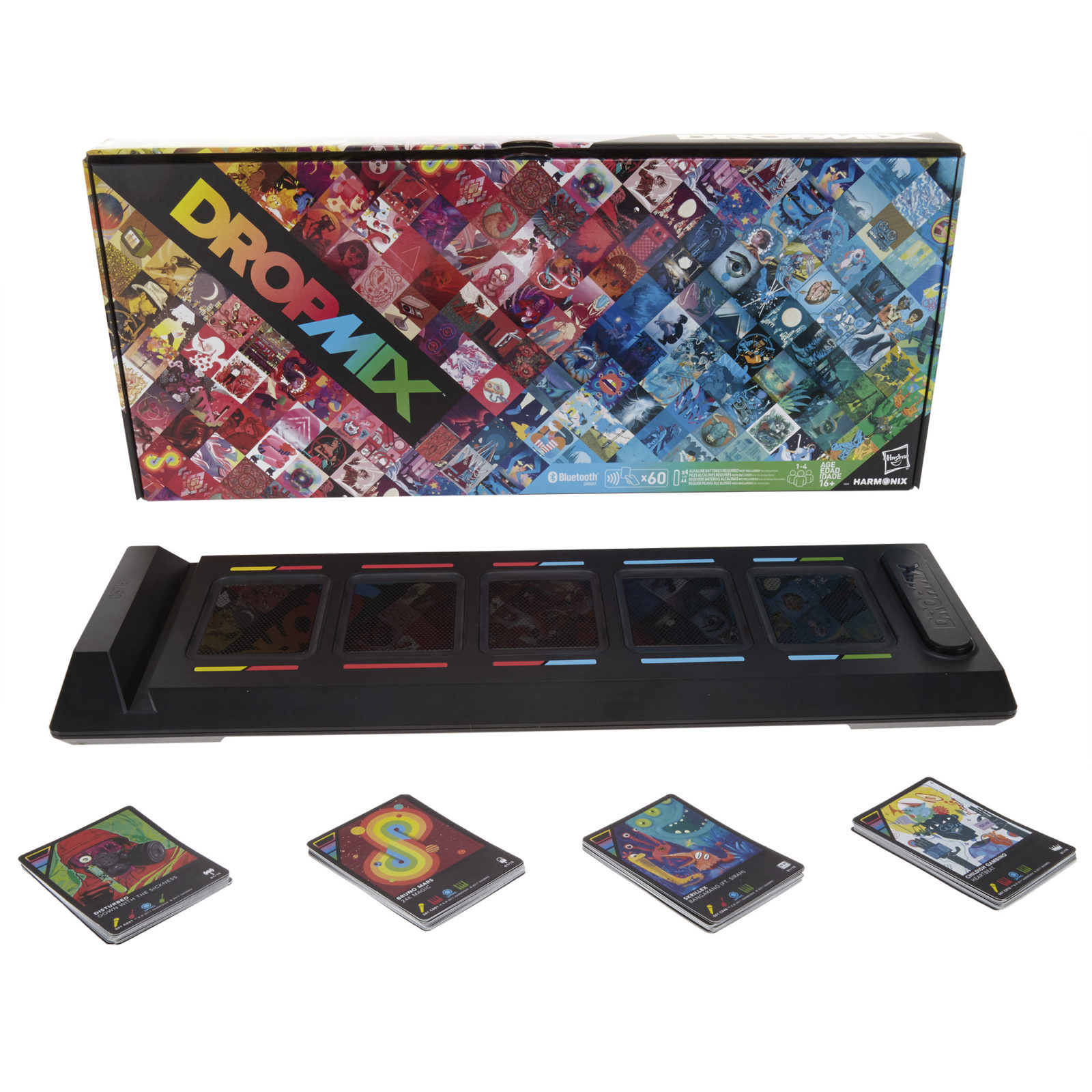 Paragon ID is pleased to announce that they have been chosen by Hasbro, Inc., a global play and entertainment company, for the supply of the NFC cards at the centre of Hasbro's new DROPMIX game.
DROPMIX was developed by Hasbro in collaboration with video game developer Harmonix Music Systems, Inc. and is a dynamic and fast-paced music-mixing game where players use innovative technology to create unique mixes with hit songs by playing cards on a game board connected to a mobile app. DROPMIX includes tracks from globally-recognized artists across multiple genres including Pop, R&B, Dance, Indie, Country, Rock and Hip-Hop.
The system is comprised of an electronic DROPMIX board that connects to a free app and NFC enabled cards that each contain a different part of a song (bass, beat, loop or vocals). The DROPMIX board reads the cards and the groundbreaking software in the app seamlessly combines the music within each card to create a unique mix.
Under the leadership of Hasbro's Integrated Play development team, Paragon ID produced the RFID inlays containing NXP's ICODE chips, printed and packaged the cards and verified with a proprietary testing system to ensure each pack contained the accurate card type and quantity. Paragon ID worked closely with NXP* to bring to the market a new higher standard of NFC gaming cards to offer to future consumers the ultimate NFC gaming experience.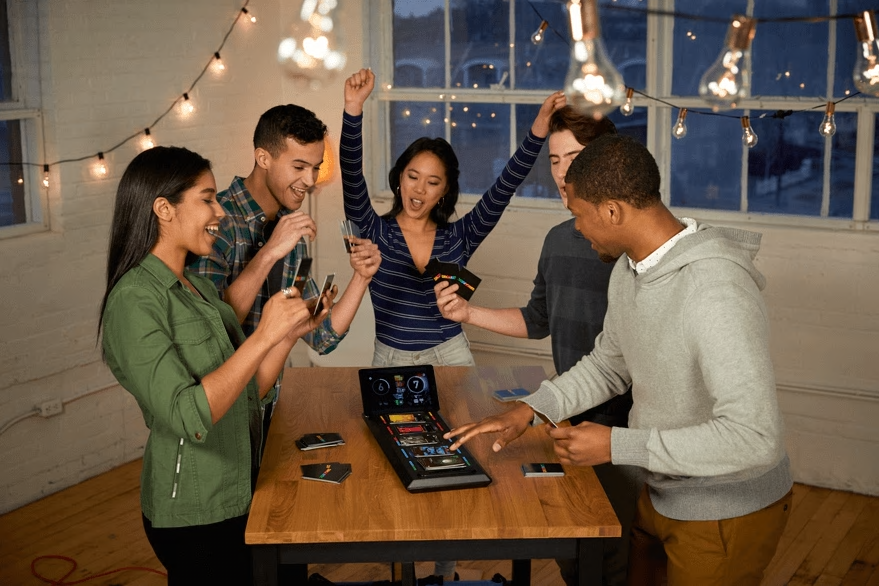 Bertrand Brault, VP Marketing & Business Development at Paragon ID commented: "Working in collaboration with Hasbro and NXP has been an amazing experience for us and we are so proud to be part of the DROPMIX launch. The cards are produced exclusively by Paragon and we know players are going to enjoy collecting them to enhance their DROPMIX experience."
Brian Chapman, head of design and development at Hasbro adds: "We are thrilled to team up with Paragon ID to bring their innovative NFC technology to the cards in the DROPMIX game. The DROPMIX cards – each featuring a unique part of a song – were developed with the player in mind to allow them to seamless create new and unexpected soundtracks every time they play."
Paragon ID is a well-known and respected provider of RFID solutions in the e-Identification (passports and driving licences) public transport and logistics sectors. This latest project reinforces the company's position as a true specialist and shows its capability in diversifying itself, bringing innovative solutions in particular for NFC applications in a wide range of sectors including gaming, retail and brand protection.
The DROPMIX Music Gaming System is currently available in the U.S. at major retailers and online and will expand to additional markets later in 2017. The DROPMIX app is free to download on the App Store for iPhone and iPad and on Google Play for Android devices. In addition to the 60 Cards included with purchase of the DROPMIX Music Gaming System, Hasbro will release Playlist Packs and Discover Packs allowing players to collect and curate their own custom decks to create new and unexpected soundtracks each time they play.
For more information about DropMix, you can watch the trailer or follow @dropmixgame on all social media channels.
©2017 Hasbro, Inc. Hasbro and all related titles and logos are trademarks of Hasbro, Inc. ©2017 Harmonix Music Systems, Inc. DROPMIX, Harmonix and all related titles and logos are trademarks of Harmonix Music Systems, Inc. All rights reserved. All other marks are the property of their respective owners.
*NXP – Co-inventor of NFC, leading manufacturer of NFC chips worldwide and supplier of all NFC readers and NFC card chips used for the DROPMIX game)
Photos, courtesy of Hasbro Inc.