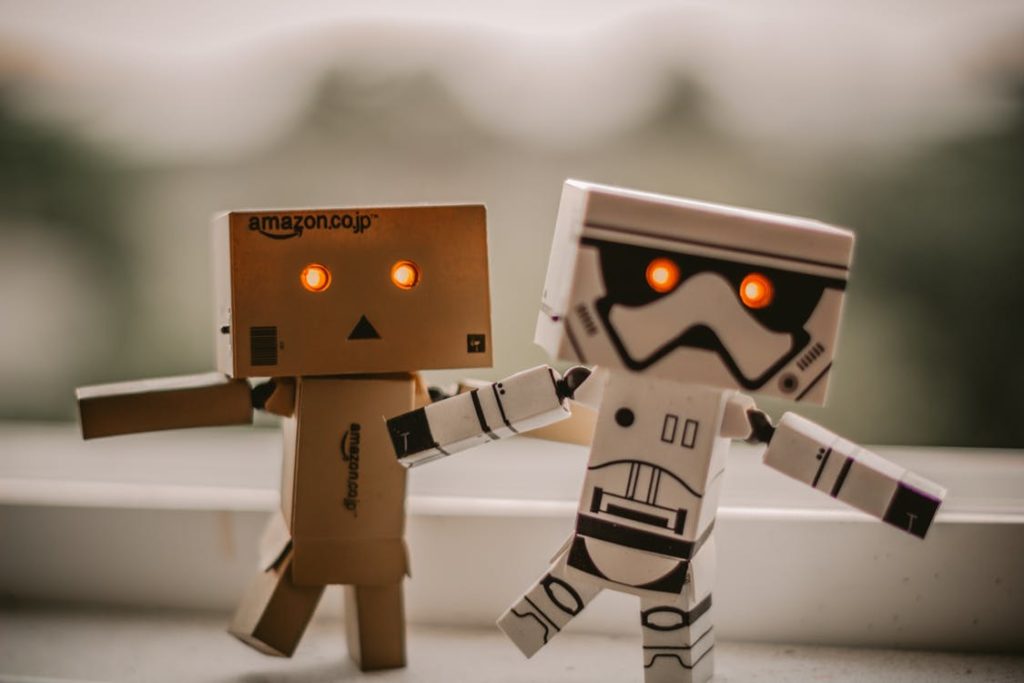 A long time ago, in a country far, far away the idea of Near Field Communication (NFC) technology and toys was almost as unheard of as NFC itself. Then, in 1997, Hasbro came along and decided to add something new to their wildly popular Star Wars line of toys. The toy manufacturers added an early version of the NFC chip – called CommTech – to their figures, enabling children to have more fun by giving real, pre-recorded voices to them. They simply tapped the chip on their favourite character and voila! There was Yoda and Chewbacca, having conversations – in your own bedroom!
This galactic launch was just the start for NFC in the toys and games sector. The chip is now so popular in its usage that it has its own sub-category – Toys To Life – a branch that encompasses any toy (or game) that uses NFC to add content.
Following on from the Star Wars line, Mattel came out to play in 2007, with their innovative U.B. Funkeys, a series of small plastic figures that contained NFC tags within them. Their USP was that every figure could unlock certain features (mini-games, characters, designs, etc.) within an online video-game. Once the toys were placed on the NFC-reader connected to the PC, the features would be unlocked and the player could then take advantage of these features.
Different characters yielded different rewards and encouraged consumers to buy more and more, in a similar vein to Pokemon. Unfortunately for Mattel however, people did not appear to want to 'catch 'em all' and, despite the potential of the concept (which many have since said was ahead of its time) the series did not prove popular and was discontinued in early 2010.
Enter the Skylanders….
Undaunted by Mattel's setback, Activision entered the NFC market in 2011 with their Skylanders line. The brainchild of Toys For Bob, a California-based video-game design company, the series was produced and distributed by their parent company – Activision. Perhaps thinking that they could take advantage of the Japanese video-game giants experience in the gaming field, or maybe because they were wary of the previous issues affecting Mattel, Activision had initially offered the Skylanders opportunity – by way of a partnership – to Nintendo. The Pokemon-people, surprisingly, passed on the opportunity of having an exclusive deal, and in so doing allowed a popular game series to slip through their fingers – though this would not be the end of Nintendo and NFC.
Activision launched the fledgling game/toy hybrid using the character of Spyro The Dragon who – despite being the star of some fairly average games – remained one of the most popular gaming IPs around. He was also a very cute, purple, fire-breathing dragon, something that they hoped would be a hit with children. Skylanders: Spyro's Adventure launched in October 2011. An action 3D platformer, the video game came supplied with 3 figures and a "Portal of Power", a device that connected to the games-system to read the NFC tags embedded in the figures.
In Activision's Fourth Quarter and Calendar Year 2011 Earnings Report, the company revealed Skylanders: Spyro's Adventure was the biggest, new IP launch in the history of Activision; it was also the number 1 best selling console and handheld video game title between January and April 30, 2012.The company had all but guaranteed further success by taking a unique (for the time) approach with Skylanders when targeting kids. While the game came with 3 character toys for use with the game, to unlock more characters, kids (or more likely, their parents) had to buy more toys.
So Activision had made their mark in NFC gaming, but they were not the only ones who had recognised the potential in this market…
Continue reading! Do not miss…
Fun, Games and NFC, part 2 – Attack of the Clones
Fun, Games and NFC part 3 – A New Hope
Photo by Matan Segev from Pexels https://www.pexels.com/photo/action-android-device-electronics-595804/